The Space
The Hackspace is in the process of renovating and moving in to our new space on Park Street.
The details below relate to our previous location on Wind Street, but have been left available so you can get an idea of how we were set up, and what sort of facilities we're likely to have again in the future.

Zones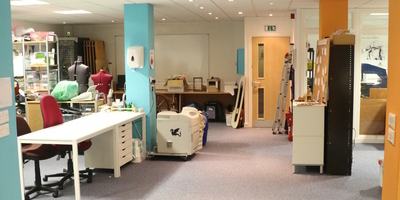 The space is divided up into numerous areas each centered around certain activities, this gives ample opportunity for groups to break out from the main table area, whether that's to work quietly on a task, or to have smaller discussions, there are plenty of zones to choose from.
Work Space / Main Table

Most prominent as you enter the space is the general purpose meeting / work tables, with stacks of chairs and stools to accommodate meeting groups, a giant chalk board, large monitor for presentations, as well as plenty of power points. This is where we hold workshops, and is the main discussion area on open nights.
Members Storage & Pick'n'Mix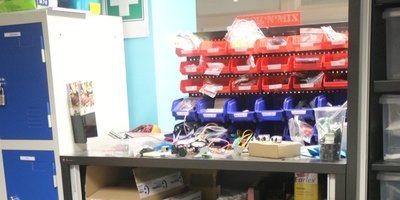 Adjacent to the main table area are the storage boxes and lockers that are available to full members, these allows them to store personal items, works in progress, materials, etc. within the space for easy access.
This is also where you will find out Pick'n'Mix stall where we sell various useful modules and components for your projects.
Solder Workstation

There are a few dedicated areas of workspace set aside for specific common tasks, such as the soldering workstation, with typical tools to hand for fast access. Further tools, soldering irons, power supplies, multimeters, etc are also available and kept in our tool cupboard.
3D Printers

We have a RepRap style 3D printer, as well as some custom built designs, all of which members can use to prototype their designs and produce custom designed objects and devices.
We keep a stock of various colours of PLA and ABS plastic which members can buy by the metre when they print their objects, we also keep a range of common object files available on the printer control system for members to print on demand, such as arduino bumper shields
Machine Room

Here we store all of the noisiest and most dangerous machines, pretty much everything in this room requires you to have passed an
induction course
, or be supervised by someone else who has.
This is where you will find the Laser Cutter, CNC Router, Bandsaw, Pillar Drill, and other power tools.

Laser Cutter

That classic Hacker Space tool the laser cutter, this is a 40W CO2 laser, with a approx 300 x 200mm cutting area, able to cut and engrave a wide range of plastics, wood, rubber and textiles. Uses include making acrylic project boxes, engraving rubber stamps, cutting fine filigree paper craft, engraved perspex signs and artworks, cutting stencils for silk-screening and decorating, and many more.
Range of Tools

We stock a wide range of hand tools, drills, screwdrivers, spanners, hand saws, hot glue gun, and so forth that are available for members to use to work on their projects
The pool of tools is always growing as people donate new items and as funds permit us to purchase others.

Idea Exchange and showcase collection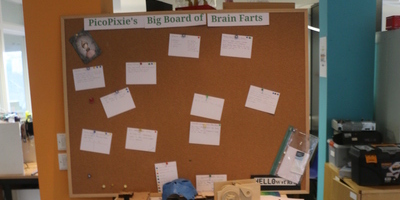 This area is dedicated to showing off some of the many projects that our members have built, printed, or constructed over the years, it is also where we keep the board of brain farts where you can exchange project ideas with other members.
Textiles and Jewellery

This area contains a the textile base crafts, sewing machines, dressmaking mannequins, materials, wool, sewing thread, knitting and crochet supplies, as well as beading and jewellery making supplies and equipment.
Vinyl Cutter and Workstations
This area houses the vinyl cutter, which allows you to cut vinyl sheeting of various kinds, for making self-adhesive decals, windows displays, and many more. There are also several computer workstations for general use.
Relaxation Area

There is a casual seating area for members to relax and unwind, great for just socialising or grabbing a snack.
There are tea and coffee facilities and we also keep the fridge stocked with a range of soft drinks, as well as crisps, chocolate and other snack foods.
We also maintain a lending library with books on a wide range of arts and crafting related topics, as well as a selection of board games and toys.